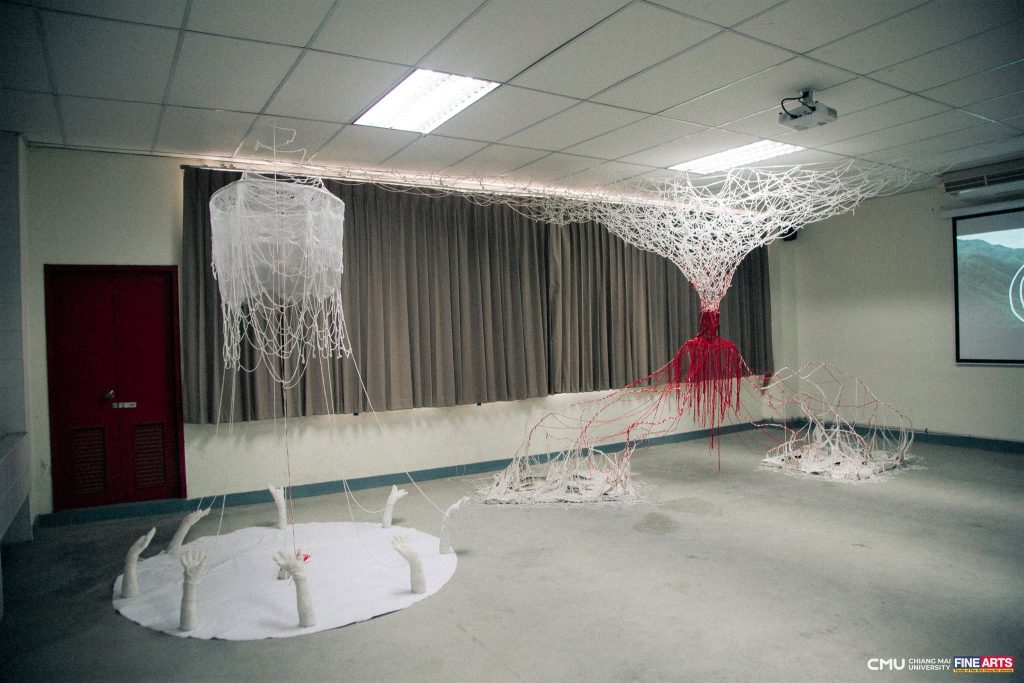 Master of Fine Arts Program (Arts and Design) -NEW PROGRAM-
Brings knowledge from various fields of study and research to develop by integrating knowledge to create works of art in different fields. Such as printmaking, sculpture, contemporary Thai art and design works.
Students conduct research and create works of art and design by researching, analyzing and systematically explaining their thought processes based on their interests.
Welcome International Students with Good English Skills.
Topic
Details
1.
Curriculum Description
Brings knowledge from various fields of study and research to develop by integrating knowledge to create works of art in different fields. Such as printmaking, sculpture, contemporary Thai art, and design work. Students conduct research and create works of art and design by researching, analyzing, and systematically explaining their thought processes based on their interests.

2.
Plan of study for International Students

Type 1 (Plan A Type A1)
3.
Specific Field of Study
Students have to select their specific field of study as follows:

1. Contemporary Thai Art*

(Only for who those have a very good command of Thai language)

2. Design

3. Printmaking

4. Sculpture

4.
English Requirement
Attach in the application or, send to the program office within the second semester.

Need to pass the English Test before "Proposal defend examination"

-          CMU eTegs 60

-          IELTS 5.0

-          TOEFL (ITP: 450, CBT: 133, IBT: 45)

See more details

"Foreign Language Conditions for Graduate Student"

5.
Qualifications of Applicants
1. Contemporary Thai Art

The applicant must have completed Bachelor's Degree from the institute that has been proved Office of Higher Education Committee with a GPAX not less than 2.50.

(Only for who those have a very good command of Thai language)

2. Printmaking

The applicant must have completed Bachelor's Degree in Printmaking or relevant fields from the institute that has been proved Office of Higher Education Committee with a GPAX not less than 2.50.

3. Sculpture

The applicant must have completed Bachelor's Degree from the institute that has been proved Office of Higher Education Committee with a GPAX not less than 2.50.

6.
Tuition Fee
Regular Program (Mon-Fri)

30,000 THB/ Semester

(120,000 THB / 4 semesters)

7.
Number of Students
General acceptance: 5 per field

8.
Application Document to Graduate School
1. Completed application forms

2. 1-inch facial photo (color)

3. A copy of the Official Transcript of your previous degree (photocopy)

4. A copy of passport (VISA Page)

5. A copy of the house registration certificate (if any)

9.
Supporting Application Document (send directly to program's coordinator)
1. Create your portfolio by taking a photograph of your artwork, and combine into 1 file, (Jpeg, pdf, or PowerPoint); describe the detail of each work such as technique, size, and created year.

Please sort them by time from past to present.

2. Send your portfolio to pimonpan.du@cmu.ac.th and niwat.b@cmu.ac.th

10.
Class hour
Conducted in Regular hour from Monday – Friday

11.
Entrance Examination
Interview

12.
Curriculum Structure and Study Plan

Please visit (https://cmu.to/rQChT)

13.
Online Application
Please visit (https://cmu.to/gradapply)